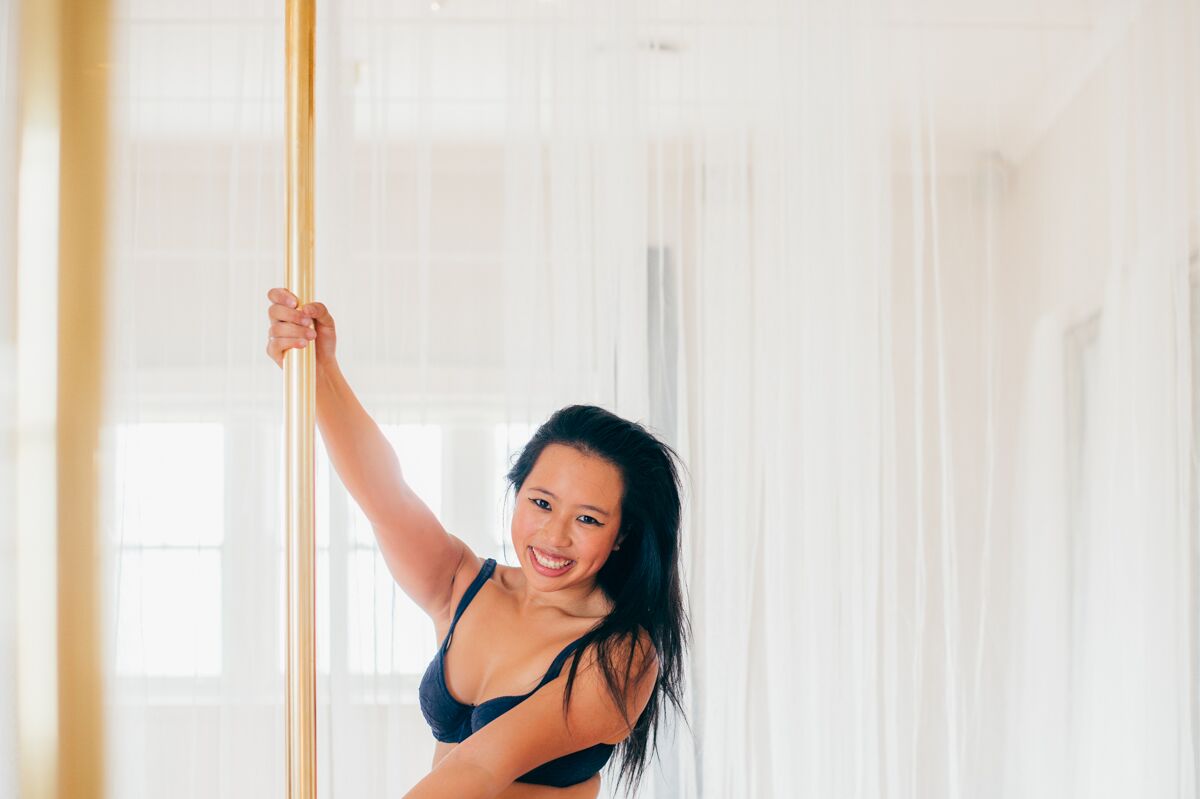 Private Lessons
Private Lessons
Private lessons are an extremely popular way to get exactly what you want from your Pole Dancing classes. It is not only the best and safest way fast track your skills, it also allows you to get exactly what you want from your session at the studio. All private lessons are tailored exactly to your needs and goals. During the booking process, we'll chat to you about what you'd like to achieve, your motivation, any fears or limitations that could be holding you back, and of course any injuries. Together we'll achieve your goals.
Below we've listed some of the common reasons ladies book private lessons at our studios:
Complete Novice…
Are you a complete novice and nervous about starting? Worried you are not fit enough, strong enough, flexible enough or coordinated? We can certainly help. Private lessons are a great way to ease you into Pole Dancing, allowing us to take you by the hand and support you on your pole journey. We'll support you with any challenges you may be concerned about as we make you feel completely comfortable. Through this detailed and tailored approach, your confidence levels will rise a lot faster than you would find in a normal group class. We have students who continue on with private lessons indefinitely as they prefer the one on one environment, and we also have students who later decide to transition into group classes.
Time Poor…
Are you a time poor professional who wants to work out at a time that suits you? We can tailor your sessions around your schedule (based on studio/instructor availability) to enable you to get the most from your workout. We'll be focused and ready to support you to achieve your goals. You may be looking for some time out from your day to focus on you, to improve your fitness or to help you simply feel great.
Girlfriends who want to have fun and train together…
Do you want to train with your girlfriends (having a good giggle with each other)? Private lessons are the perfect answer. Private lessons are available for up to 3 ladies per session for the same price (additional ladies can join for a small fee). Sessions will still be focused individually to enable everyone to be challenged regardless of their individual level.
Wanting to perform or compete…
We have supported a lot of our ladies through various competitions and performances, ranging from local pub based competitions to state championships. Do you need some help creating or tweaking a routine? We can certainly help. We bring a range of knowledge and experience from judging state and national championships over the last 3 years. We will offer guidance and support in all aspects of performing and competing. From the actual performance, to the mindset required and also give you the inside knowledge of what judges expect at the highest level.
Struggling with particular moves…
Do you find there are particular moves that hold you back? We feel your frustration. Let us support you to make it happen. We'll look at what the issues are and what could be holding you back, then we'll develop a plan to help you master that move. Sometimes it can be strength, flexibility or technique. We'll diagnose exactly what is stopping you from progressing and we'll create clear achievable action steps to help you achieve what is important to you.
Are you a mum that wants to get back into shape after having your baby…
We know first hand that it can be intimidating getting back to exercise after having a baby. Your body has gone through some incredible changes and you've just created a little miracle. We believe all women should feel confident and sometimes our confidence can be impacted as we go through the different stages of life. We will help you rediscover the real you as you regain your shape in a warm and supportive environment.
I want to fast track my skills…
Are you already attending classes but want to fast track your results? Are there particular tricks/combo's that you want to learn? This is the opportunity for you to shine. Bring along your "wish list" of things you'd like to achieve and together we'll tick them off and help you take your skills to a whole new level…fast!!