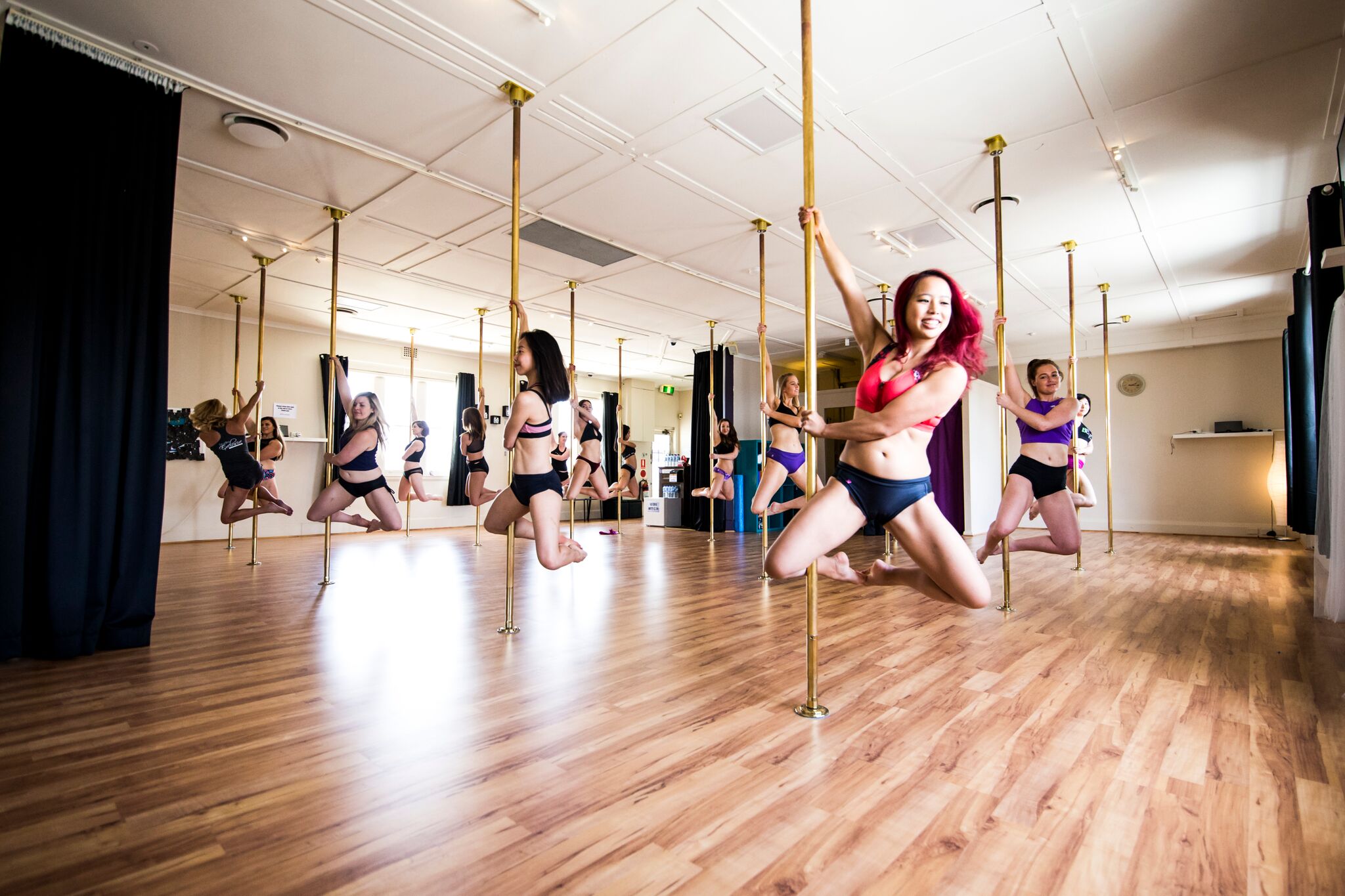 Pole Dancing FAQs
How do I manage my classes on the Studio Mindbody App?  
Once you complete your enrolment you will receive a welcome email.  Your membership account has already been created in the main booking system (Mindbody Online).  For step by step instructions to activate and manage your classes on the app click here.
I'm unsure if Pole Dancing is right for me
We you join we want to make sure you are getting what you want from your classes and also that the studio is the right fit for you.  You can cancel anytime (no cancel fee), we just need 28 days notice.
What if I am going to miss a class?
We understand things come up during the term, so if you are going to miss a class you will need to cancel out of your class at least 12 hours before its scheduled starting time. Class credits have an expiry date of 12 months (the term of release and the following 5 terms). If for any reason you can't use all of your credits in a term, you have the following 5 terms to use those unused credits.  You can easily book your make up class online using your ipad, iphone or computer, we even have our very own Studio App! Please click here for detailed instructions on managing your class bookings.  
What are the benefits of Pole Dancing?
Women have discovered amazing changes to their bodies through Pole Dancing. They notice their upper body taking shape, becoming stronger and more toned. Their core becomes stronger and tighter; and can also help you lose weight if that's a concern for you. The greatest thing about Pole Dancing is you are so busy having fun and learning different moves and routines that don't even realise you're doing a great workout. Now that's the workout we all want!
How are Studio Exclusive classes different to other pole fitness studios?
Each class is run in a way to ensure every student gets some one on one time with their instructor, and they progress at a rate they feel comfortable with. Our instructors are very approachable, friendly, supportive and encouraging (and a laugh is guaranteed in each class!). Our students are also supportive and encouraging of their each other, Studio Exclusive is more than just a dance studio; it's a positive supportive community where women can feel comfortable and happy! We are the studio for the everyday woman who wants to improve her fitness, strength, appearance and confidence in a positive environment.
What type of person does Pole Dancing?
Our classes cater to all ages, shapes, sizes and backgrounds. We have mothers, daughters, sisters and friends at our studio, and they range from 15 to 70 years of age. Basically women from all walks of life can enjoy the benefits that Pole Dancing has to offer. Here at Studio Exclusive we welcome anyone who is willing to have fun and support their fellow students. Our classes start with the basics so you don't need a dance/gymnastics background, and flexibility or co-ordination are not required either. Our instructors are always on hand to help and guide you as you progress through the levels.
What is pole good for?
Pole dancing gives you an amazing workout, particularly for the upper body and core. You will become strong and toned, but never bulky, as you are only lifting your own body weight. Pole is a lot of fun, and when you do exercise that is fun it doesn't feel like a workout as you look forward to it and enjoy yourself.
What should I wear?
Wear normal gym type clothing. Shorts are best as we use our legs to grip, however if you feel more comfortable in longer pants, you can wear these and you will get more of an upper body workout. We also have nice flattering lighting in our studios so that everyone feels comfortable. Also bring along a water bottle.
Are you easy to get to?
Our Chatswood Studio is a 20 minute walk from Chatswood Chase or a short bus ride from Chatswood Train Station. If you are driving, there is plenty of on street parking.
Our Drummoyne Studio is directly off Victoria Road. There are plenty of buses that travel from both directions on Victoria Rd. If you are driving there is plenty of street parking and a local car park opposite the studio.
Do I need to do any other exercise?
That is completely up to you, a lot of our ladies start with one class a week and then progress to more. Some also come to pole once a week and go to the gym as well. It completely depends on your goals and what you want out of your workout.
I'm concerned that I am not fit enough, strong enough, young enough, flexible enough or coordinated…
You can start pole at any level of fitness. We start you right from the beginning. You will begin with walking around the pole, then gradually we will teach you spins/turns, and then you will start to hold your own body weight. You will naturally become stronger and stronger each week. The ladies who start pole dancing with us are all everyday women who don't have upper body strength to start with. Our emphasis is on having fun, getting a great work out and having a laugh!
Ok I'm curious but a little nervous…
If you're curious about the new "fun addiction" but a little nervous, don't be. We pride ourselves on helping women just like you become strong and confident, who also learn to love their bodies whilst doing something fun and exciting. We invite you to come along and check out one of our studios, chat to our instructors and do a tour/trial; we guarantee you'll have a great time!
I have small hands, how am I going to hold onto the pole?
We have a variety of pole sizes/widths in our studios, so even someone with the smallest of hands can find the perfect fit. Our Chatswood Studio has a mixture of 40mm, 45mm and 50mm Chrome poles and 40mm Brass poles, while our Drummoyne Studio has 40mm Brass poles. We also use a grip enhancing solution called dry hands that repels water and perspiration, making it a lot easier to grip the pole.
Will I have my own pole?
Yes absolutely we guarantee everyone will have their own pole.
Do I need to wear heels?
Most girls start off barefoot and then as we lead up to our Showcase night some girls decide to wear heels. Only wear heels if you feel comfortable doing so.  We encourage our students to do what feels right for them.
I'm worried I will fall behind…
In each class instructors will always review the moves learnt in the previous lesson. We specifically designate one on one time with you and your instructors during your class, so if you are ever having trouble with any moves you have time to ask questions and work on them. A lot of our girls repeat levels until they are 100% confident, and we encourage you to be comfortable, after all we want you to be having fun!
What do I get for my class fees?
When you enrol in a term of classes at Studio Exclusive you are joining a supportive, positive, encouraging, motivating and fabulous community of women who are always excited to see you succeed and improve. You are also taught by fully qualified (Dance, Gymnastics and Fitness) instructors who are trained to get to help, support and encourage you to achieve things you never thought possible. There is also the flexibility to use your classes at all of our studio locations.
What if I am Pregnant?
We always recommend speaking with your doctor before continuing classes to ensure not only the safety of yourself, but also your soon to be bundle of joy. One of our instructors was still teaching up until she was 7 months pregnant so it is totally possible!
I am worried about my safety…
We focus on giving each student one on one time to help them progress through the moves and also to minimize the risk of injury. All of our instructors are fully qualified (Dance, Gymnastics and Fitness) and are trained on how to look after you, and spot you correctly, while you are learning new moves. We currently work with local medical professionals who advise our students and staff on how to prevent common injuries and how to attempt moves safely. We also have crash mats available to add that extra bit of safety.
Do your employees have a First Aid Certificate?
We always have a staff member at the studio that has a current First Aid certificate; your safety is our number one priority.
Is your studio clean?
Absolutely all poles are cleaned after every class.
I've tried Pole Dancing and I'm addicted, I want more…
Pole Dancing is often referred to as an addictive sport. Once you start it's hard to stop. We know, because that's how we got hooked in the first place. But it's okay because you can always get more. There are always new moves to master and new ways to challenge yourself! We offer a variety of class options so the sky is the limit! Not only can you do our level classes, but we also offer classes to work on your strength, flexibility and mobility.
Do you do Pole Parties?
We offer Pole Parties to help you celebrate your next special event. A Pole Party is a great way to celebrate your birthday, hen's night, corporate event or girl's night out. Packages are available and can be tailored to your needs. Get ready for lots of fun and laughter!
What is Pole Silks?
Pole Silks is a combination of Pole Dancing and Silks, bringing together the strength and aerial skills of both disciplines to create a truly beautiful way to keep fit! Pole Silks is a great complimentary class to any of our other pole classes where you can use the pole silk to help enhance existing moves, as well as learning harder and more exciting moves.
What our students say about us…
"It has been one of the best experiences for me. It's so much fun and I feel better about myself since doing it, fitter and more satisfied that I am finally doing something fun to get fit. It is the highlight of my week."
"Such fun lessons and the instructor was very friendly. Lesson prices are reasonably priced with various packages to choose from. Very professional, great to try something new! Gain strength and lose weight fashionably!"
"Wonderful friendly environment. I felt very comfortable when I entered the studio and had such a wonderful experience that I was hooked and couldn't wait to come back. I love it!"
"You will get addicted!"
"I went along for a bit of fun with a friend and ended up getting fit in the process! Highly recommended."